Pet Robot Lilly Vol. 3
English title:
Pet Robot Lilly Vol. 3
Japanese title:
愛玩ロボット リリィ第3巻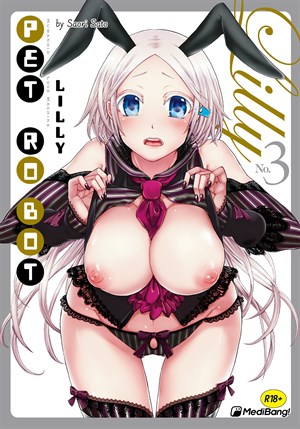 Preview Pages
Page count: 153
Year published: .
Comic id: #280
Description »

The third volume of Pet Robot Lilly is here, featuring the same pervy klutzy sex robot Lilly.
Since Lillies are mass produced, each story features a different Lilly. They all have similar personalities, but their experiences make them distinct.

Chapters:
Chapter 11 - Lilly's rich master dies and in his will, leaves his huge mansion and servants to Lilly.
How will his butler deal with serving the sex starved robot.
Chapter 12 - A kid rummages through his older brother's closet looking for his porn stash. What he finds instead is a sleeping Lilly.
Then his brother comes back early and he ends up hiding in that very closet. One thing leads to another and the boy ends up
having a day of his life.
Chapter 13 - In a strange reversal of roles from Chapter 9, Lilly's master this time is a woman with very peculiar fetishes.
Chapter 14 - This chapter's Lilly has had several masters, and even her current masters are a group of friends. For a robot who was programmed
to be loyal to one person, this starts causing mental issues. In this chapter we also witness something completely new:
a reverse harem with Lilly at it's center.
Chapter 15 - Lilly works as a mannequin in a fancy clothes store. Despite being as airheaded as ever, this Lilly is among the most proactive ones
we've seen so far. This is a trilogy of shorter chapters listed under a single entry since they are directly connected
Chapter 16 - Lilly helps an aspiring manga artist to draw better sex scenes and get on better terms with his (female) editor.
Chapter 17 - Lilly's master is a mad scientist with a mecha fetish, so she gets some very "interesting" upgrades.
*All characters depicted in this work of fiction are adults, regardless of their visual representation or textual description, and are not based on any real person*
Comments
No comments yet.