Hunt Hunt
English title:
Hunt Hunt
Japanese title:
ハント・ハント!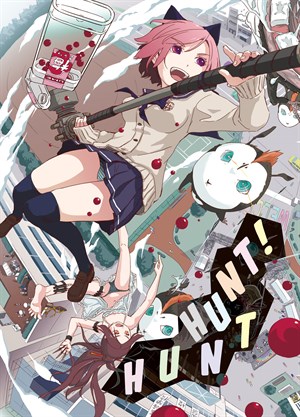 Preview Pages
Page count: 38
Year published: .
Comic id: #80
Description »

30 years ago a rain of meteors showered the Earth and from the scattered meteorite sprung a whole plethora of bizarre fantastical creatures… that just happen to be really tasty.
Follow the members of the Hunt Club as they prepare for their school's cultural festival. They plan to lure in and trap a bunch of innocent, unwitting young boys… by selling them tasty food. And as their club's names implies, girls of the Hunt Club hunt their own food.

Enjoy the first doujinshi published by 2D Market that doesn't contain any adults only material, but makes up for it with story, action, dynamic pantyshots and puns (and maybe a MonHun reference or two).

Second issue preview can be read for free here (contains spoilers for the first issue).
*All characters depicted in this work of fiction are adults, regardless of their visual representation or textual description, and are not based on any real person*
Comments
No comments yet.