Manage! Let's Kiss!!
English title:
Manage! Let's Kiss!!
Japanese title:
マネジ!キスします!!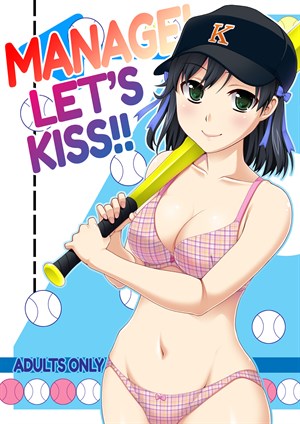 Preview Pages
Page count: 18
Year published: .
Comic id: #98
Description »

Manage! Kimemasu!! is an eroge visual novel, developed by Gekidan Kinmirai and published by softhouse-seal in 2011. You can see the game trailer here (NSFW, of course) .The main character artist for the game was Unagimaru, who also happens to be the artist behind Kabayakiya. Therefore, this book is a kind of (to use Unagimaru's own words from the afterword) "self-doujinshi", featuring characters designed by Unagimaru for "Manage!" game.
If you've never played the game, you can hear the samples of the character voices on the game's webpage. Some of them are even taken from the ero scenes~

Story of the doujinshi is fairly straightforward and centers around an up-and-coming member of the baseball club getting a reward of his own choice for good performance. Since the one giving him the reward is the sexy student council president, you can surely guess what his request is going to be...

Note: this doujinshi has been remastered on August 27th 2020. If you purchased it previously, please redownload the new version from your library.
*All characters depicted in this work of fiction are adults, regardless of their visual representation or textual description, and are not based on any real person*
Comments
No comments yet.