Pet Robot Lilly Vol. 2
English title:
Pet Robot Lilly Vol. 2
Japanese title:
愛玩ロボット リリィ第2巻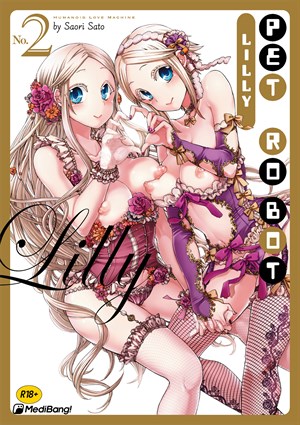 Preview Pages
Page count: 154
Year published: .
Comic id: #259
Description »

The second volume of Pet Robot Lilly is here, featuring the same pervy klutzy sex robot Lilly.


Chapters:
Chapter 6 - A rich kid gets a present from his sexy maids: a sex robot!
Chapter 7 - A man can't have sex with his wife because his member is just too big. So he buys a sex robot to spice up their love life.
Chapter 8 - Lilly works as a receptionist at a brothel.
Chapter 9 - Lilly works in a cosplay store, managed by her, somewhat sadistic, master.
Chapter 10 - Man rescues an abandoned Lilly from a junk heap.
This somehow leads to them going on the run from a futanari policewoman robot

*All characters depicted in this work of fiction are adults, regardless of their visual representation or textual description, and are not based on any real person*
Comments
No comments yet.