The Weak Are Food for the Demented
English title: Victim Girls Ch.7: The Weak Are Food for the Demented
Japanese title:
Victim Girls7章: 弱肉狂食 Dog-eat-Bitch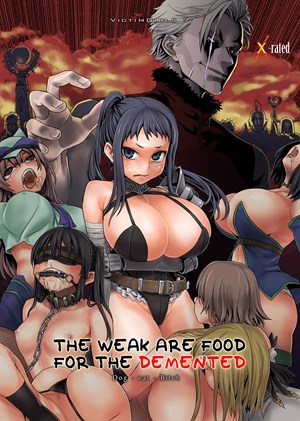 Preview Pages
Page count: 43
Source: FEZ
Year published: .
Comic id: #92
Description »

From the master of hardcore doujinshi comes another dark story.
In a patriarchal medieval settings, a single woman tries to live as a strong warrior who needs no man. But most men in such settings just want to see women serve them.
One such man captures our heroine, Charlotte, and puts her through a hell of carnal desire. How long will she resist the temptations of flesh and will her comrades manage to save her in time?
*All characters depicted in this work of fiction are adults, regardless of their visual representation or textual description, and are not based on any real person*
Comments
2 comments in total.
This is just a couple years short of a decade old, but it's still great.
This was an instant buy for me.

Then again, all of Asanagi's works are an instant buy for me XD