I won't allow loveless sex!
English title:
I won't allow loveless sex!
Japanese title:
愛のない性行為など私が許しません!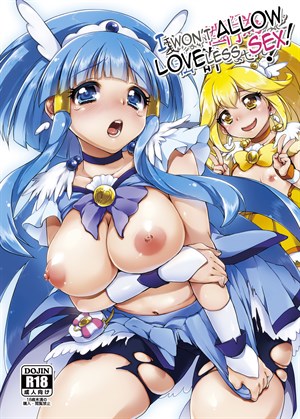 Preview Pages
Page count: 23
Source: Smile Prec*re!
Year published: .
Comic id: #60
Description »

In the Cure's hideout, Reika stumbles upon some Yayoi's drawings.
She's shocked to realize that they are not what one would expect from the otherwise innocent Yayoi: a manuscript for an erotic doujin featuring all the Smile girls!
Enthralled rather than enraged, and leaning perhaps a bit too enthusiastically to the table corner, Reika wonders where did Yayoi's inspiration for such drawings come from.

After hearing other Smiles approaching, Reika decides to protect Yayoi's secret from them and haphazardly uses the bookshelf portal to get away with the drawings.
She lands in an unknown room where's greeted by Wolfrun, Yayoi and an unknown man. Will the source of Yayoi's inspiration be revealed to Reika. And, more importantly, will she find an "inspiration" of her own?
Comments
No comments yet.