Midnight Cranes
English title:
Midnight Cranes
Japanese title:
あなたを想う夜の鶴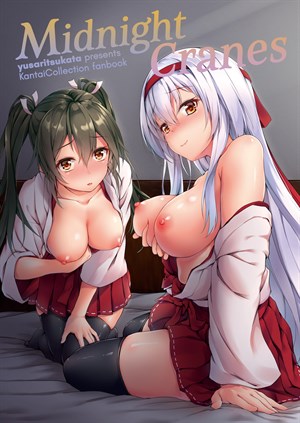 Preview Pages
Page count: 31
Year published: .
Comic id: #296
Description »

The saga of the pervy Admiral with an insatiable libido and his thirsty ship girls continues! In fact, he's been having sex with his secraty ships so often that there's an rumor going around the naval base that if you go to the corridor next to his office, you can hear punding and moaning every night. Clear signs of a haunted hallway, right?

When Zuikaku speak about the rumors with Shoukaku, she learns the shocking (?) truth. The same night, she joins Shoukaku on her night duties with the intentions to just watch. Of course, she's as thirsty for Admiral as any other ship girls, so she soon ends up joining in a threesome.

P.S. "kaku" in Shoukaku and Zuikaku's names means "crane", hence the title.
*All characters depicted in this work of fiction are adults, regardless of their visual representation or textual description, and are not based on any real person*
Comments
No comments yet.