Calming a Panzer High 2
English title:
Calming a Panzer High 2
Japanese title:
パンツァーハイのおさめかた2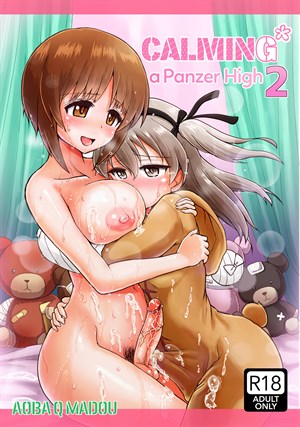 Preview Pages
Page count: 29
Source: Girls und Panzer
Year published: .
Comic id: #265
Description »

While this doujinshi is a sequel to Calming a Panzer High, it has very connections to its story. It has every connection to its themes, though: GuP girls are once again afflicted by Panzer High, a condition caused by practicing tankery. It leave them hot, bothered and with raging boners. This time, the doujinshi is split into three chapters:
● First part is all about Alice suffering from Panzer High and not knowing how to deal with it. She confides in Miho, who decides to show her how to stroke herself out of it. The cover page represents this story.
● Second part centers on Anzio team dealing with relieving pre-battle tensions. In the end, it boils down to Pepperoni and Carpaccio attacking their commander Anchovy from both sides~
● Third part is set after Jatkosota team gets stranded on a deserted island. While Mikko's out scouting, Aki and Mika spend some quality time together.
*All characters depicted in this work of fiction are adults, regradless of their visual representation or textual description and are not based on any real person*
Comments
No comments yet.