Livestock: HAPPY END
English title: Victim Girls Ch.21: Livestock: HAPPY END
Japanese title:
Victim Girls21章: 牧場: HAPPY END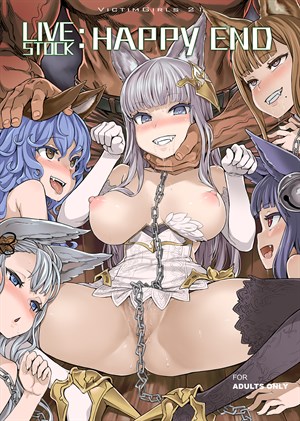 Preview Pages
Page count: 31
Source: Granblue Fantasy
Year published: .
Comic id: #172
Description »

Korwa, a world-famous fashion designer, has been making dresses for one of her clients that have a curse of obedience placed on them. At face value, she's disgusted by the way her client treats the erune women that don the dress: like chattel, objects and disposable sex toys.

Still, after seeing it first-hand, she can help but masturbate while fantasizing about herself being in the same situation and treated that way.

So when an order comes for a new dress, whose measurements seem perfectly tailored for herself, she can't stop herself from making one. But of course, there's no way a proud erune like her would knowingly put the cursed dress on submit herself to the client. Right?
*All characters depicted in this work of fiction are adults, regardless of their visual representation or textual description, and are not based on any real person*
Comments
1 comments in total.
Nice to see you guys releasing more work from Asanagi. Just my two cents; you should take the Gareki he makes (short seven page collections of random art) group some of them together and sell them as a bundle. I'd buy it.