Jezebel Amazones
English title: Victim Girls Ch.19: Jezebel Amazones
Japanese title:
Victim Girls19章: JEZEBEL AMAZONES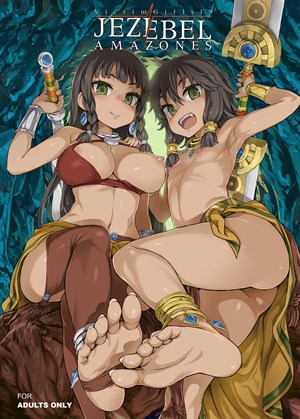 Preview Pages
Page count: 35
Source: Danmachi
Year published: .
Comic id: #103
Description »

Amazons are known as a race of proud warrior women. They naturally consider men inferior and that is even directly reflected in their biology: all of their children are Amazon girls, with male genes getting overwritten at conception.
But even such a proud race needs some recreation. When Tiona and Tione defeat a bunch of minotaurs, they decide it would be a waste not to take advantage of their well-endowed penises to have some light fun. Before they kill them.
But minotaurs are savage, manly beasts, and their huge members might prove to be the downfall of the proud Amazons.
In this installment of the famous Victim Girls series you can enjoy the hardcore tale of the Amazons downfall, right from the pen of the master, Fatalpulse.
*All characters depicted in this work of fiction are adults, regradless of their visual representation or textual description and are not based on any real person*
Comments
3 comments in total.
Love seeing these uppity girls properly dominated.
I am not a fan of Asanagi's works but this one is an exception. Love the art and the overall theme.
Asanagi has really perfected his artistic style. Though, a bit tamed compared to his past more edgier material, I really enjoyed the theme and especially the ladies :3