Summer Love Vacation with Suzuya
English title:
Summer Love Vacation with Suzuya
Japanese title:
鈴谷と夏LOVE VACATION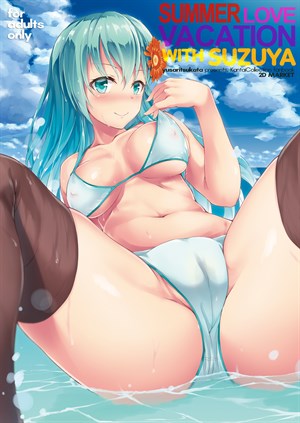 Preview Pages
Page count: 23
Source: Kancolle
Year published: .
Comic id: #101
Description »

It was only recently that Suzuya and Admiral started a relationship, but Suzuya's raging libido has them engaging in sexy time almost non-stop.
Still, Admiral is a nice guy and he makes sure not to neglect the other ship girls. Even if he's just hanging out with them, Suzuya's been getting more and more jealous.
Now, admiral and several of his ship girls took a trip to the beach. Armed with a sexy swimsuit and unrelenting lust, Suzuya plans to strike the final blow and completely ensnare the Admiral.
*All characters depicted in this work of fiction are adults, regardless of their visual representation or textual description, and are not based on any real person*
Comments
No comments yet.